Freckles - To Get rid of freckles by Home Remedies
| | |
| --- | --- |
| Freckle | Unevenly distributed melanin (pigmentation) occurs due to exposure to the sun. Freckle appear early in life, increase in number during summer months and fade in winter. People who have a fine textured skin and a fair complexion usually get freckles. Freckle are usually tan or light brown, flat, and very small (smaller than the head of a pin). Sometimes they overlap and run together, so they may look larger. |
You should not get unduly upset. Some people's freckles fade away almost completely in the winter, just to return in the summer. Other people's freckle are permanent, don't change much with or without the sun, and can be seen year-round. Never try and cover up the freckles with make up, that will only make matter worse. You should rather to lighten them. Freckles removal can be easily achieved by some these freckle removal remedies.
Home remedies to get rid of freckles
1. Lemon, Orange or Lime Juice is Best For Freckles Removal
The juice of any one of these can be mixed with a little beaten yoghurt. This paste should be regularly applied on the face and left dry. Rinse off with cold water. This will helps to lighten the freckle.
2.Remove Freckle By Radish
Radish contains a bleaching agent. So take one radish, grate it and add to it the juice of the one lime. Blend well and apply all over the face. Leave to dry and then wash off It not only lightens the freckles but also remove blackheads. Rub vigorously before washing to remove freckle and the blackheads.
3. Mint And Banana Will helps To Get Rid of Freckle
Take a few mint leaves and grind them to a paste. Add to this one mashed banana and blend in a blender. Apply this paste all over the face- be careful to avoid the eyes. Regular use will get rid of freckle and remove blemishes too.
4. Remove Freckle By Egg Plant
Take an eggplant and slice it. Apply fresh eggplant slice all over the freckles, keep rubbing them in a circular motion and leave them on for a few minutes. Use this treatment daily and the results will show after a week. This helps in get rid of freckle
5. Cranberray And Strawberry For Freckles Treatment
Rub freshly crushed cranberries or strawberry on your face. Leave the juice and the mashed fruits on your face to dry. Then rinse with cold water. Regular use will get rid of freckle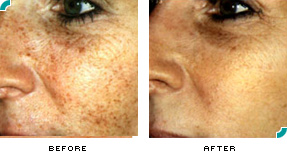 Freckles
After the use one of the these natural freckle removal remedies the results are shown on the above images. So the regular use of natural freckle removal home remedies will lighten the freckle.
6. Remove Freckles By Lemon Juice And Boric Acid
Dissolve one teaspoon boric acid in a cupful of hot water and add to it the juice of the one lemon. Add 2 tablespoon of rose water and half tablespoon of glycerine. Mix well and store this solution in a jar. Dab this lotion on the freckles with a cotton wool pad. Leave it on later, rinse with water. Regular use will helps in freckle removal. If the same solution in rubbed on the neck and shoulders, it makes them fairer, as they usually appears darker than the face.
To get rid of freckle you must try above Freckle Removal Remedies.