Buying Bridal Wear Online
It is your wedding and you are contemplating the idea of buying your dress online? Well choosing bride's dress is one of the most important if not the most important activity in the wedding. Here are a few simple steps that can help you in choosing an appropriate dress online.
Fix your budget
This is very important. When you buy online there are so many options available that tempt you thanks to so many websites available today. You may be tempted to raise your budget but it is advisable to set a max limit to the kind of money you want to splurge on your dress.
Make a list of Websites that you can trust
Very important to first Zero in on the websites you would like to explore for buying your dress. You can ask your friends for their advice but make a list of at least 10 websites that you would be comfortable buying from. Buy your bridal wear and accessories at DressFirst Today and you can also get a discount here.
Choose the style and color
It is very important to choose the correct style of your dress. There are so many styles available today and you may be spoiled and confused by the choices available but choose an appropriate style that suits the occasion, season, your body shape, complexion. A suggestion would be to involve your friends into this. Choose the color that would suit your complexion and the occasion.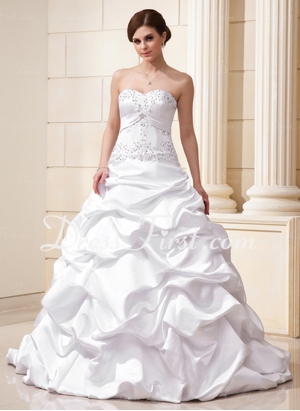 Know your body type
Do you have an hour glass body? Or an Apple shaped body? Or do you have a straight body? What is your height? Knowing this and understanding your body type is very important part of the process.

Measurements
Take your measurements correctly as you an be quite assured that the dress you ordered will be of the exact size you gave. A common mistakes that woman do is order a size lower than their actual size in anticipation of loosing weight. Remember it is easier to alter the size of the wedding dress to one size down than the other way.
Check the websites payment and return policy
Go through the company's return policy and payment terms before placing your order. Some websites may offer a favorable return policy. Some even offer flexible payment options.
Order in Advance
No matter how sure you are of what you are buying it would be advisable to order your dress well in advance so that you have time for alterations and last minute changes.
Author Bio: Garima Mehta is a professional blogger and loves to write on various topics including fashion, lifestyle, health & business.